Art Lab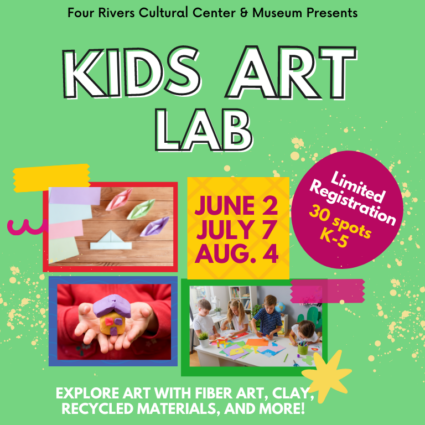 June 2- August 4
5:00- 6:00 PM
Grades K-5
Registration is now full. You can sign up to be placed on a waitlist below.
WAITLIST
It's time to get crafty! The Four Rivers Cultural Center is bringing the arts to the Four Rivers Region with a brand new, FREE arts & crafts series: Art Lab! Beginning on June 2nd from 5:00 p.m. to 6:00 p.m. 
Join us as we dive into exciting crafts the whole family can enjoy! Explore art, and all the different kinds of material it takes to make a masterpiece. Experiment with fiber art, clay, recycled materials, and more! 
Dates: 
June 2nd 

July 7th 

August 4th 
Frequently Asked Questions: 
What age group is this class geared towards? 
This class is perfect for children K-5th, but the whole family can enjoy experimenting with the art projects we will lead. 
What is the registration limit for this class? 
Registration is limited to 30 people 
Does this include parents and siblings? 
Yes, when you register please list everyone in your family who will be participating in the class so that we can purchase enough art supplies for you. 
What if I don't make the registration, can I be added to the waitlist? 
No, we are not doing waitlist registrations for our classes anymore. 
How will I know if there is an open spot available then? 
Don't worry! We're flexible. Try calling ahead on the day of the class to see if there is space available for you to attend. An FRCC staff member will let you know if there is still room on that day.  
What are your COVID safety requirements? 
FRCC is observing all COVID-19 guidelines as mandated by the state. Please observe all social distancing measures while in the building–when you practice safety we can continue to bring our amazing free programming to you!
More Questions? Call (541)889-8191 or email us at development@4rcc.com.