Diversability: An Exploration of Diversity, Equity, and Inclusion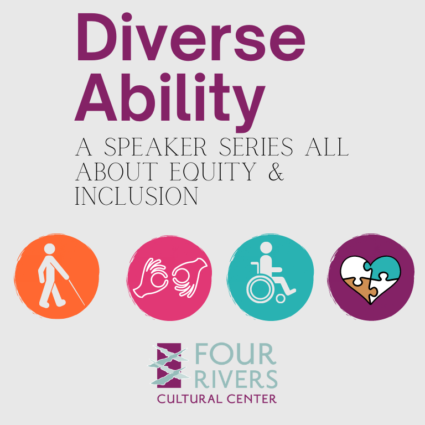 Exploring Diversity, Equity, and Inclusion @ FRCC
January 13- May 12
6:00 PM- 7:30 PM
January 13th: We are Blind
February 10th: We are Deaf
March 10th: We Interpret to Connect Us All!
April 7th: We Care for Someone with Autism
May 12th: We Care for Someone with Down's
Here at the Four Rivers Cultural Center, our mission is to unite our community through the celebration and education of diversity and culture. That's why we're excited to introduce our new speaker series, Diversability, an exploration of diversity, equity, and inclusion, beginning on January 13th from 6:00 p.m. to 7:30 p.m. and ending on May 12th.
Mark your calendars! On select Thursday evenings we're bringing together a panel of people from your community and beyond to share their amazing stories of strength and perseverance as people who are Deaf, Blind or Caretakers of those who have Down's or Autism. You'll also meet a variety of interpreters–who help us connect to each other by  bridging communication gaps between us all! FRCC is thrilled to provide this inviting space for questions that inspire greater understanding and humanity! 
How Does it Work? 
Once per month, beginning in January we will pull together a panel of community members who are differently-abled to speak on a select topic each week. Our moderator will ask questions of the panel, allowing participants to learn more about the amazing individuals in our community—and even inviting them to ask their own questions. 
Meet the Moderator! 
Kaethlyn Elliott, as a linguist, writer and educator is grateful for the support of FRCC in hosting this series. Her goal is to show the humanity of people on the "margins of the majority" and how, sometimes, they laugh but more often struggle over myths or apathy surrounding their differences. 
Elliott has spent most of her life with people "on the margins," where there are still many misunderstandings about identity among the Blind, Deaf, Hard of Hearing, Down's, and Autistic. Too, there remains much confusion as to who an interpreter is and their role, not only for the people they represent but for those of us they bridge the gap between. 
Schedule:
● January 13th: We are Blind
● February 10th: We are Deaf
● March 10th: We Interpret to Connect Us All!
● April 7th: We Care for Someone with Autism
● May 12th: We care for Someone with Down's