FRCC's Origin Story Exhibit Opening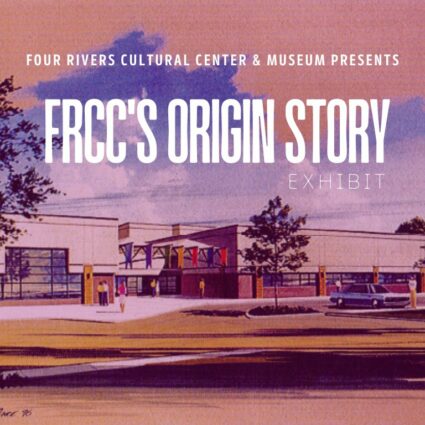 FRCC's O
rigin Story Exhibit Opening
August 12 OPENING (see it through October 1)
6-8 PM

FREE
Harano Gallery
Unveil the special back-story on the making of the Four Rivers Cultural Center & Museum first-hand with carefully curated items inside this special exhibit honoring our 25th anniversary. The gallery opening will include speakers, light refreshments, and of course, a special sweet treat. 
Join us from 6:00 to 8:00 p.m. to learn how the Four Rivers Cultural Center and Museum came to be!
We're taking it back 25 years ago to tell the incredible story of how one community gathered to create one amazing nonprofit in the Four Rivers region.
EXCLUSIVE FRCC MEMBERS ONLY ACTIVITY BELOW
WHAT'S HAPPENING?
We're telling FRCC's story with a special exhibit, key speakers, cupcakes, an exclusive members-only activity, as well as a charcuterie board and refreshments available for purchase from Matys.
Be sure to check out the exclusive Member's-Only Corner — after the presentation and the exhibit opening — to participate in a 2022 time capsule to be opened on FRCC's 50th Anniversary in 2047.
You will:
Have your photo taken on a polaroid.
Write a special message to the future on the polaroid photo.
Place it in a container which will be sealed and placed in the FRCC Collections Vault.
Plus, snag your exclusive Member's treat for the night.
WANT TO BECOME A MEMBER?
Email us at Development@4rcc.com or call 541-889-8191
Download membership brochure HERE