Indian Dance Production: Navarasa Kalinga Nardana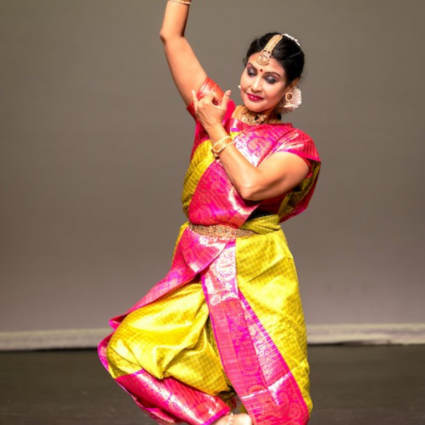 Indian Dance Production: Navarasa Kalinga Nardana
December 1
Time: TBD
Here at the Four Rivers Cultural Cultural Center, we are passionate about providing as many opportunities for that the children in our community to engage in diverse cultural and artistic experiences as possible! That's why we're excited to announce a new FREE virtual event that will be debuting in the Myer McLean Theater on Wednesday, December 1st, and will be open to our local schools. 
Join Jayanthi Raman Dance Company as they perform a Full-length Indian dance production: NAVARASA KALINGA NARDANA, a celebration of Indian culture, traditions, heritage, and dance. 
Following the performance, cultural ambassador and choreographer Jayanthi Raman will engage students in a discussion on the art of Indian dance and culture. We hope you have lots of questions! 
About the Story: 
Indian Folktales and Mythology are brought to life through dance! In this beloved story, Lord Krishna, the famed God of Indian Mythology, fights a dangerous, large, and multi-headed snake. Audiences can watch his struggle and eventual victory set to the beautiful choreography and unique stylized movements of classical Indian dance.
What You Need to Know:  
This program is open to local schools in the Four Rivers Region. If you would like to set up a time to view the performance please contact development by calling (541)899-8191 or emailing

development@4rcc.com

. 

This program is completely virtual, it will take place in the Myer McLean Theater to allow for a more interactive viewing experience. The runtime is 50 minutes in length. 

We are observing all COVID-19 regulations as set in place by the OHD.