Kids Art Lab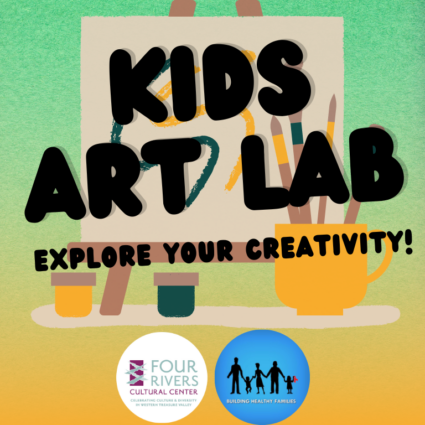 Sept. 1 – Dec. 1
5:30 – 6:30 PM
Here at The Four Rivers Cultural Center, we believe everyone is an artist, and we want to help bring out the artist in YOU! In Partnership with Building Healthy Families, we are pleased to offer this FREE art workshop the first Thursday of each month.
Join us as we dive into exciting crafts the whole family can enjoy!
Dates:
Sept 1

October 6

November 3

December 1
Frequently Asked Questions:
What age group is this class geared towards?

This class is perfect for children K-5th, but the whole family can enjoy experimenting with the art projects we will lead.

What is the registration limit for this class?

Registration is limited to 30 people

Does this include parents and siblings?

Yes, when you register please list everyone in your family who will be participating in the class so that we can purchase enough art supplies for you.

What if I don't make the registration, can I be added to the waitlist?

No, we are not doing waitlist registrations for our classes anymore.

How will I know if there is an open spot available then?

Don't worry! We're flexible. Try calling ahead on the day of the class to see if there is space available for you to attend. An FRCC staff member will let you know if there is still room on that day.

What are your COVID safety requirements?

FRCC is observing all COVID-19 guidelines as mandated by the state. Please observe all social distancing measures while in the building–when you practice safety we can continue to bring our amazing free programming to you!