Member Night in Hikaru Mizu Japanese Garden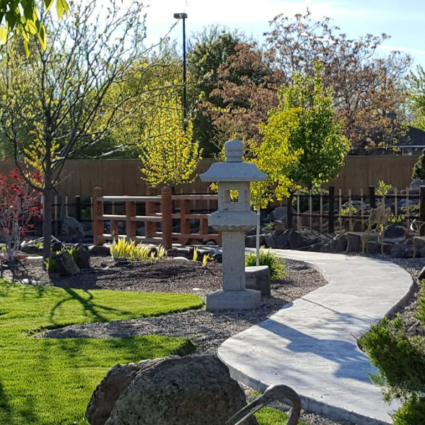 Hikaru Mizu Member Night
June 17
7:00 PM
Connecting the community to the beauty of various cultural traditions is part of the mission at Four Rivers Cultural Center and Museum. That's why we're hosting Hikaru Mizu Member Night to celebrate the art form of the Hikaru Mizu Japanese Garden— the second largest Japanese Garden in all of Oregon— on June 17, 7-9 PM.  
Join us for a calm evening intended to create moments of relaxation and instilling an appreciation for the Japanese Garden.  
This evening is free to FRCC Members and $15 for the public! If you decide to join as an FRCC member to keep attending thrilling member nights—plus, enjoying other benefits— your entrance fee will be credited towards any membership level!  
Memberships directly support the mission of FRCC, including its free and low-cost community programming as well as its ability to operate the theatre, museum, Japanese garden, venue space, and gallery. Thank you for your support in creating a more VIBRANT and healthy community!  
What's Happening?  
This evening is all about Hikaru Mizu and relaxation. Here's what to expect:  
SOCIAL HOUR | 7-7:30 PM 
FRCC Introduction

 

Light bites and light refreshments will be provided. You may also purchase additional drinks from Matsy's cash bar.

 
Bonus: FRCC will help you obtain your digital membership card throughout the night!

 
ACTIVITIES FOR THE EVENING | 7:30-9 PM:

HIKARU MIZU 101 
7:30-7:45

What's a Japanese garden?  How is it one of Japan's most important traditional art forms? And why does Ontario have one? Enjoy a quick opening presentation by volunteer garden curator, Mike Miller, who will share a fascinating snapshot of Hikaru Mizu. 
HIKARU TOURS
Every 20 minutes starting at 7:50 PM

grab your group for an in-depth tour of the Japanese Garden with Mike Miller who will enlighten you with appreciation for the gardens elements and its ability to help you slow down, reflect, and connect to the beauty of nature. 

 
KONBANWA "Good Evening" KOI
Throughout the evening starting at 7:50 PM

FRCC invites you to say hello to the glowing creatures of Hikaru Mizu, our Koi friends. How many do you see? What are their colors? For those who wish to feed the fish, a small feeding cup will be provided. 

 
MEDITATION GARDEN DEMONSTRATION 
Throughout the evening, at 7:50 PM and 8:30 PM

, watch as a peaceful meditation occurs in the sandstone garden. Then, take what you've learned so that you, too, may utilize the sandstone garden when your life calls out for a moment of Zen. 

 
SOOTHING SOUND BATH  
Throughout the evening starting at 7:50 PM

, bask your sense of hearing with the ancient practice of a sound bath.  As you experience various sound waves and vibrations, find peace in knowing that sound bath benefits include relaxation, stress reduction, and improved sleep. 

 
CALMING BODY SCRUB 
Throughout the evening starting at 7:50 PM

, take a few moments to create an easy-to-make lavender body scrub so you may experience calmness outside of the Hikaru Mizu Japanese garden with help from one of mother nature's power plants.