Share Your Heritage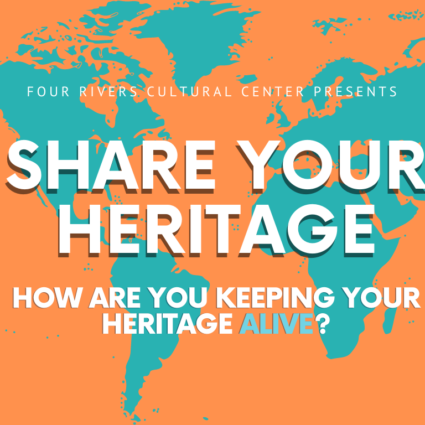 Are you ready to delve into the heritages, ancestors, and traditions that make up your community?
At Four Rivers Cultural Center we believe that when we make an active decision to explore our history and that of others, it doesn't just connect us to our identity, it connects us to each other and encourages mutual respect for other ways of life.
Help us strengthen these connections, to each other, to ourselves and to our roots by sharing your family's history! It's why we are asking you to Share your Heritage: what are the songs, stories, dances, traditions, recipes, arts and crafts, jewelry, and artifacts that make up your cultural identity?
Share your Heritage and we'll celebrate with you by posting it on our Facebook page!
More than that, we'll host an exhibit in the future to showcase the people and heritages that currently make up the region we live in — you'll be getting an insiders look at the rich history of your neighbors!
What is heritage? 
Heritage is an inherited sense of identity that is strengthened by a set of values, traditions, and activities that are passed down from generation to generation.
What Should I share? 
We are looking for variety! Art, recipes, stories, jewelry, traditions, or dances, make your submission in the format that makes the most sense for your heritage –take a photograph, submit a typed recipe, upload a video or even an audio file.
What you need to know: 
 Please keep videos to 2:00 minutes in length
 Please include a description of your heritage, what it means to you and your family and your contact information with each submission.
 This is an opportunity for us to see how diverse our community still is
 Heritage doesn't mean the same thing to everyone, if it is important to you and your family don't be afraid to share it!
 The deadline for submissions is December 18th, 2020 
 Submit via the FRCC web form